Products
>
QUICK-TRIP & QT-DISPLAY
QUICK-TRIP® & QT-DISPLAY®
General| QUICK-TRIP AC-PRO-II| QUICK-TRIP For AC-PRO| Installation
---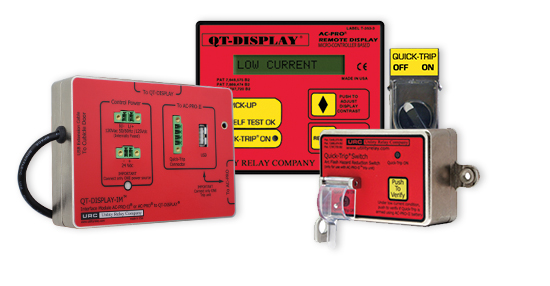 The QUICK-TRIP® system is a manually controlled arc flash reduction system. It can reduce trip times when turned on and allows selective coordination between circuit breakers when turned off. If maintenance personal must work on energized equipment, they will first turn the QUICK-TRIP® system on at the breaker feeding the equipment. If a fault occurs, the upstream breaker will trip quickly based on the QUICK-TRIP® settings reducing the arc flash hazard to personnel.
The QUICK–TRIP® settings are separate ground fault (QT GF) and instantaneous (QT I) settings in the AC–PRO® and AC–PRO–II®.  The QT GF & QT I have the same ranges as the regular GF and I settings in the AC-PRO® and AC-PRO-II®. The settings are dormant until the QUICK–TRIP® switch is turned ON. When the switch is turned back OFF the AC–PRO® and AC–PRO–II® returns to its original settings.
Example: A feeder breaker needs to be racked out for maintenance. Before opening the cubicle, QUICK–TRIP® would be activated on the main. If an incident occurs during the racking out, the main would trip on the QT GF or QT I instead of the standard settings. Since the main tripped faster than usual, the amount of energy build up would be less and the arc flash would be reduced.
A reduction in arc flash incident energy levels may permit lower PPE clothing for maintenance personal.
All QUICK-TRIP® Switches are pad-lockable.
Remote QUICK-TRIP® control and indication is also possible. Contact us for additional information.
QUICK-TRIP® for AC-PRO-II®
For AC-PRO-II® Trip Units, two (2) QUICK-TRIP® options are available:
Option 1: Configuration using the QT-DISPLAY-IM®, the QT-Display®, and the QT-Switch®
QT-DISPLAY® and QT-Switch® Features:
View trip unit info without opening the cubicle door
Lockable QT-Switch® for Arc Flash Reduction
QUICK-TRIP® ON LED, Self-Test LED, Pickup LED, 1x16 Character LCD, Review Button
QT-DISPLAY-IM® Features:
Allows the QT-DISPLAY® and QT-Switch® to be used with either AC-PRO-II® or AC-PRO®.
Allows QT-DISPLAY® to display Currents, Voltages*, Power*, Energy*, Settings, and Last Trip Data from AC-PRO-II® (*requires VDM for Voltage, Power and Energy data).
Includes USB extension port for AC-PRO-II® (For InfoPro-AC® software and SAFE-T-TRIP®).
Requires control power. Versatile design accepts 120VAC, 125VDC, or 24VDC.
Compatable with Existing Products
Ideal for:

Cubicles where QT-DISPLAY® is already installed.
Cubicles where breakers with either AC-PRO-II® or AC-PRO® could be racked in.

Option 1 Diagram

Option 2: Configuration using the QT2-Switch® & AC-PRO-II®

QT2-Switch® Features:

Integral QUICK-TRIP® Switch (lockable) and QUICK-TRIP® LED
Terminals for Remote QUICK-TRIP® Switch wiring and remote QUICK-TRIP® indication wiring
"Push-to-Verify" Button (for verification of QUICK-TRIP® status on battery power)

Option 2 Diagram

Click here for a practical example of how QUICK-TRIP® can be used to lower incident energy,




---

QUICK TRIP® for AC-PRO®

The QUICK-TRIP® system for AC-PRO® comes with the QT-Display®, QT-Switch® with a padlockable cover and all the necessary mounting hardware and cables. The QT-Display is a read only device that extends the use of the AC-PRO® to a more convenient and safe location for personnel to view the continuously displayed 3-phase current, the "PICK-UP" LED, "Self-Test" LED and review last trip data and unit settings. All of this can be done without opening the cubicle door.  

QT-Display® and QT-Switch® Features

View trip unit info without opening the cubicle door
Lockable QT-Switch® for Arc Flash Reduction
QUICK-TRIP® ON LED, Self-Test LED, Pickup LED, 1x16 Character LCD, Review Button

Click here for a practical example of how QUICK-TRIP® can be used to lower incident energy.

---

Installation

Informational video installation guide of the QT-2 Switch® for AC-PRO-II®






Product Information
Instruction Manuals
QT-Display-IM® Instruction Manual v1.0
Data Sheets
QUICK-TRIP® for AC-PRO® Product Flier
QUICK-TRIP® For AC-PRO-II® Product Flier