What's New
March 9 2021
AC-PRO-II® Feature Updates
Since its launch in 2015, safety has been a key element of our AC-PRO-II® universal trip unit. Over the years, we have released a number of safety updates including QUICK-TRIP® remote display and Sluggish Breaker® detection, and we are excited to announce our latest batch of safety enhancements available in our upcoming firmware update.
Scheduled Service Reminder: Program AC-PRO-II® to remind you when it's time for scheduled breaker service. The reminder can also include your company name and contact info. When the date arrives, a reminder message will appear on the AC-PRO-II® screen and can also be available over Modbus communications. The reminder can be programmed using our InfoPro-AC software via USB or entered directly into the AC-PRO-II®.
Remote QUICK-TRIP® Arc Flash Mode Control: Using AC-PRO-II® Modbus communications and Smart 1-Line® (our turnkey, touchscreen HMI system), you can remotely engage and disengage QUICK-TRIP®. The QUICK-TRIP® feature serves as an energy-reducing maintenance switch. When QUICK-TRIP® mode is enabled, it can reduce trip times, and thus reduce Arc Flash Hazard to personnel and equipment.
Remotely Close Electrically Operated Breakers: Using Smart 1-Line® (our turnkey, touchscreen HMI system) or other Modbus communications system, you can remotely close E/O circuit breakers. To accomplish this, the AC-PRO-II® programmable output is field-set to "Close E/O Breaker," and the output is wired into the electrically operated breaker's close circuit.
---
Feb 1 2021
NETA PowerTest 2021 Conference and Exhibition
Be sure to visit our booth at the annual PowerTest Conference on Tuesday, March 9 from 12:00-5:00pm EST. This year's conference will be entirely virtual, so we have put together a bunch of helpful content that you can access when registering for PowerTest TV at Powertest.org.
Come learn more about our Low Voltage Life Extension products, such as AC-PRO-II®, Smart 1-Line®, and the patented Sluggish Breaker® technology. Additionally, be sure to take our virtual 'behind the scenes' tour of our facilities and meet the URC team that makes it all happen.
We would have loved to meet with you all in person in sunny Orlando, but we hope you will find this virtual connection to be informative and beneficial. We will be online during the exhibition, so be sure to reach out with comments or questions.
---
Nov 17 2020
Social Media Giveaways!
Starting Monday Nov 9 we are giving away prize packages each week of the holiday season to lucky winners who follow our social media accounts and subscribe to our newsletter.
Follow the instructions on each week's post for your chance to win!
Prizes included a URC branded duffel bag stuffed with merch and personalzied goodies!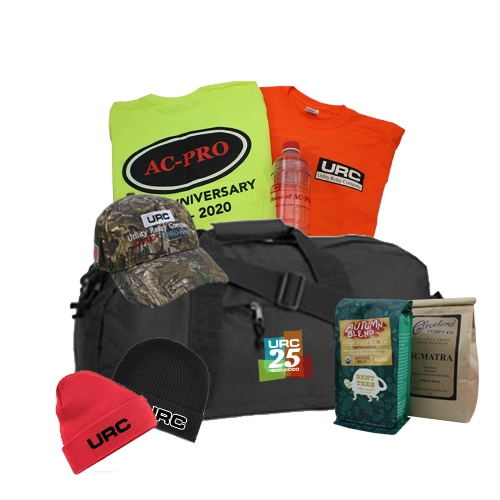 ---
April 9 2020
ABB SACE EMax E3 Series Retrofit Kits NOW AVAILABLE!
Complete protection retrofit kits for SACE Emax E3 circuit breakers.
ABB SACE air circuit breaker series launched in 1990, with many versions now out of production or obsolete. Curb the cost of an expensive replacement with a cost-effective retrofit offered by Utility Relay Company.
Replaces OEM PR series trip units
The AC-PRO-II® trip unit is installed where existing trip unit was located
Reuse OEM Actuator
Replacement CTs included in kit
---
March 10 2020
The Settings Conversion Calculator is Utility Relay's newest solution. Available to our customers free of charge, this tools allows you to convert the settings from your existing trip unit into similar settings for the AC-PRO® and AC-PRO-II®. Try it for yourself here.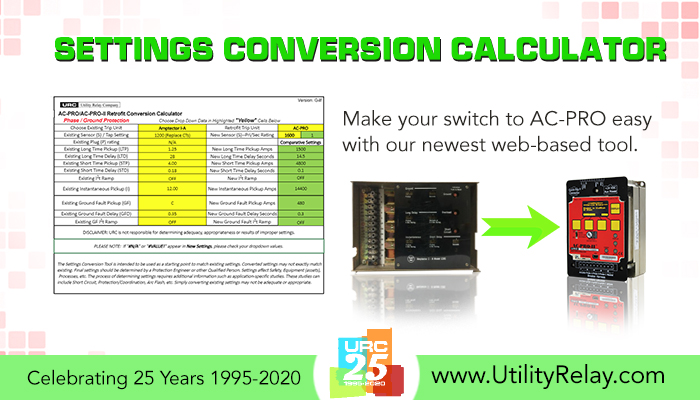 ---
Dec 6 2019
Manage your line-up the smart way
with Smart 1-Line™
Based on a rugged, touch screen industrial computer, Smart 1-Line™ is URC's modern turn-key solution for monitoring your AC-PRO® and AC-PRO-II® networks at one convenient location.