Products
>
InfoPro
InfoPro®
The InfoPro graphical user interface software was developed to provide our customers with on-demand breaker information from a USB connected trip unit.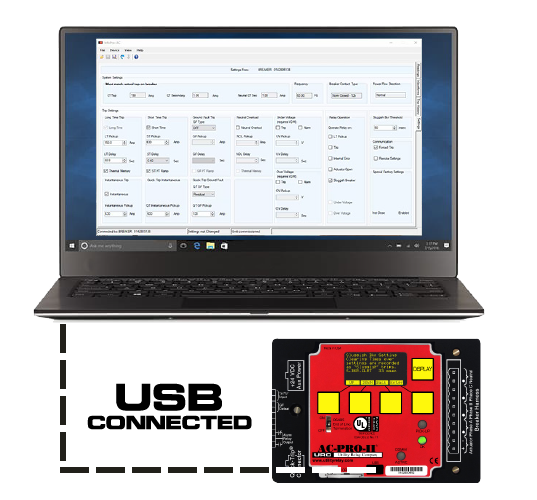 Features Include:
Trip unit settings
Current, Voltage & Power readings
Waveforms on Demand
Data on the Last 8 Trips
Saved Trip Data
Upload and Save Parameters
Trip Unit Firmware Upgrades
Soft Quick-Trip Control
Control E/O Breakers
Plotting Time Current Curves
Input & Document Test Results
Input & Document "As Found" and "As Left" Trip Unit Data
Print and Save Test Reports
Perform RS-485 Modbus Communications test
InfoPro requires:
USB connection
Windows 10 or higher
InfoPro Versions
Our InfoPro software is available to our customers in three separate versions depending on your trip unit. Software versions are exclusive to their specific trip unit models.
Version
Compatible Trip Units
Download
InfoPro-AC
AC-PRO-II
AC-PRO-NW
InfoPro-MP
AC-PRO-MP ONLY for units with Side Test Ports
See diagram below*
InfoPro-MP-II
AC-PRO-MPAC-PRO-MP-IIONLY for units with Front Test Ports
See diagram below*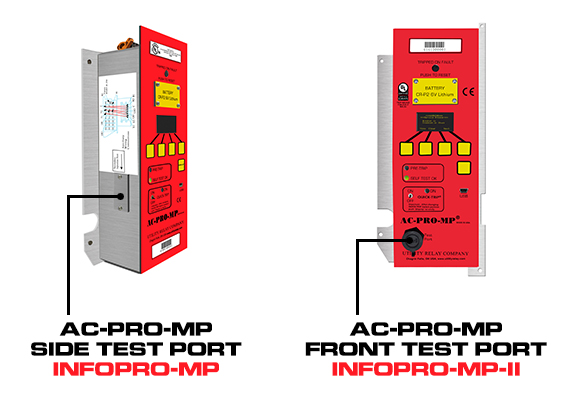 InfoPro Media
We've created step-by-step videos to demonstrate how easy using InfoPro can be. The following video shows the proper procedure to upload settings given from an older AC-PRO to an AC-PRO-II using the InfoPro software in place of manual entry.
This video also demonstrates the recommended procedure of swapping the trip unit on the breaker.
Additional Videos are available on our Youtube or on our Videos page.
InfoPro Images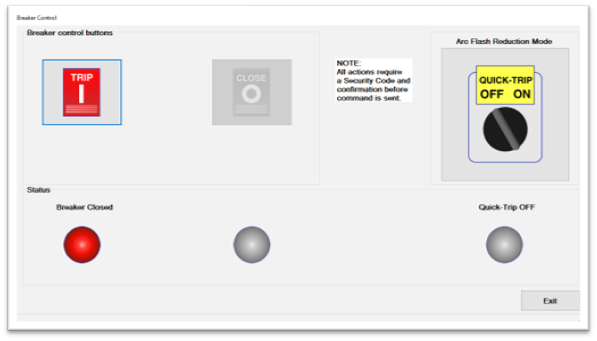 ---
InfoPro-AC software version history
Version

Version Highlights / Summary

Date

5.0.9.0


Added AC-PRO-NW support
Added support for wireless connection of InfoPro to AC-PRO-NW via URC USB wireless dongle
Rearranged Settings tab
Miscellaneous improvements and bug fixes

04/07/2023

4.3.4.0


Added Breaker Control Window

Trip Breaker
Close (E/O) Breaker
Soft QUICK-TRIP®

Updated for compatibility with v4 firmware

Power Demand Metering (KWD/KVAD
Scheduled Service Reminder
Settings – additional settings (e.g. Reverse Power, Current Unbalance)

User can import logo for printed reports

4/29/2022

2.3.0.0


Added support for special AC-PRO-II v3 firmware
Added QT-IM device firmware upgrade support

11/13/2020

2.1.15.0


Plotting Time Current Curves (TCCs) with Test Results
Input and document Breaker Test Results
Input and document "As Found" and "As Left" trip unit data
Print and Save Test Reports
Perform RS-485 Modbus Communications test

1/09/2019

2.0.36.0

Updated for compatibility with AC-PRO-II v2 firmware

11/02/2017

1.1.10.0

Increased maximum CT rating from 5000A to 6300A. (requires AC-PRO-II firmware v1.8 or later).
Added ability to display Breaker position in Readings tab, based on aux contact. (requires AC-PRO-II firmware v1.7 or later).
Ground Fault current RMS value is now displayed in Trip History tab.
USB connectivity improvements.
Other miscellaneous minor improvements.

12/16/2015

1.0.37.0

Initial Release

1/16/2015






Product Information
Product Fliers