Products
>
AC-PRO-II
AC-PRO-II®
AC-PRO-II® is the solution you need to modernize and extend the life of your low voltage circuit breakers.
Click here for a list of breakers for which AC-PRO-II kits are available.
In addition to the standard functions of Long-Time, Short-Time, Instantaneous, and Ground Fault (LSIG), AC-PRO-II
®
also includes:
Scheduled Service Reminder
Sluggish Breaker® Detection
USB Communications
RS485 Modbus RTU Comm
up to 115.2 Kbaud
QUICK-TRIP® Arc Flash Reduction
Trip History & Waveform Capture
Over/Under-Voltage Alarm/Trip*
Power Demand Metering*
Reverse Power Protection*
Phase Loss Protection*
Current Unbalance Protection
Close E/O Breaker Control
CT Auto-Polarity Correction
Zone Block Output Signal
LSI Protection for Neutral
*Requires VDM Option
Comparison of AC-PRO vs AC-PRO-II Features and Settings
Advantages of AC-PRO-II vs AC-PRO Video
UL and CE Certification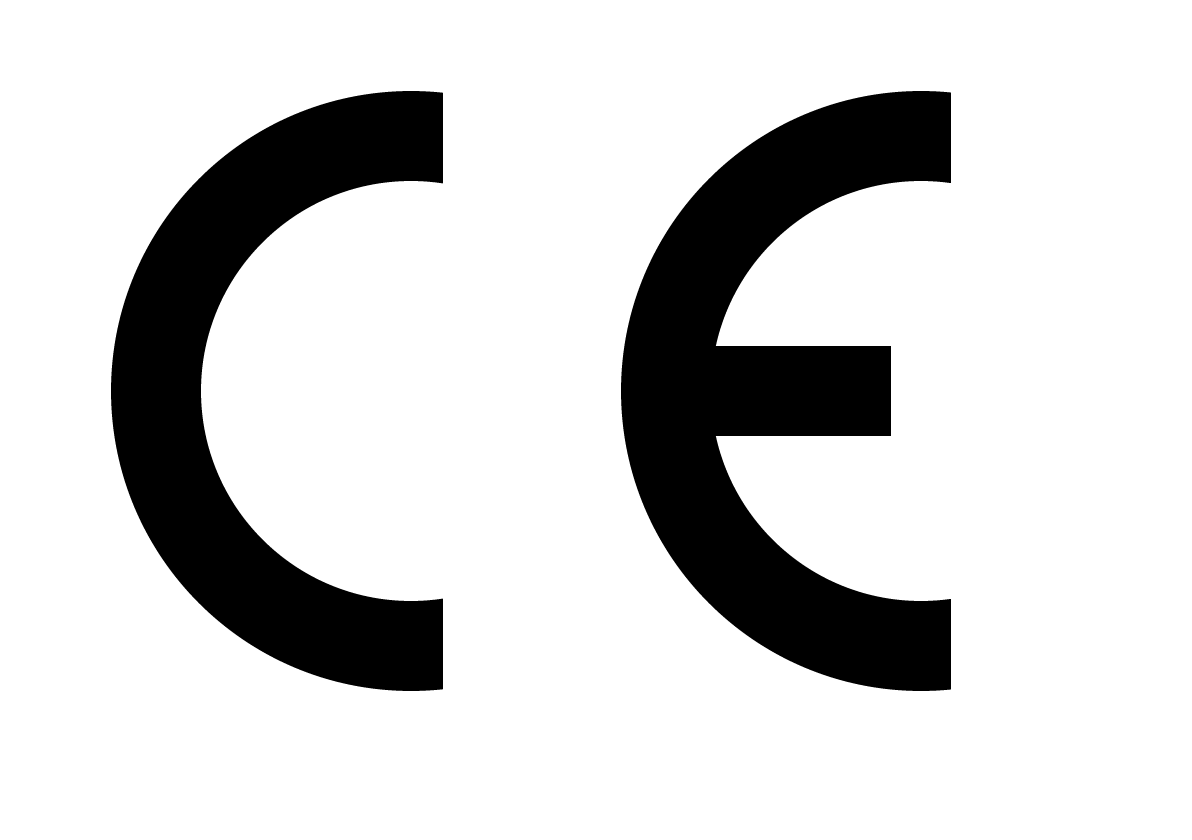 To ensure that the AC-PRO-II® will function when needed it was tested to the ANSI C.37.59 Standards for fault interruption. As a result of this testing the
AC-PRO-II® is UL listed on a variety of breakers. Please see the AC-PRO-II® UL Listings table for a compete breakdown.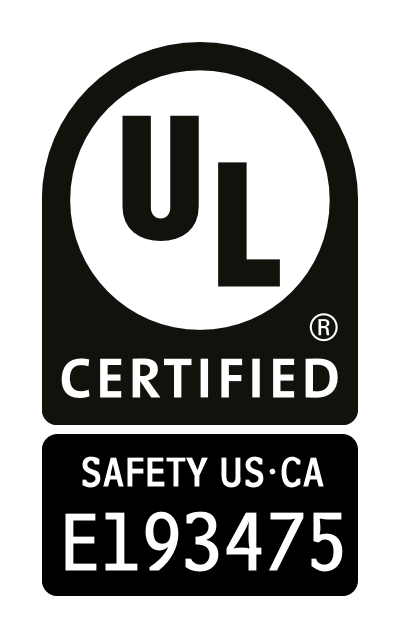 The UL mark is in the process of being updated and modernized by UL. When Utility Relay Company designed the AC-PRO-II® we decided to use the new enhanced version of the UL mark so we would be in compliance with any future UL regulations.
The SAFETY US-CA wording on the UL label designates that our product has been evaluated and certified to United States and Canadian safety requirements, which include UL, ANSI/IEEE, and CSA standards.
The E number at the bottom of the mark is a unique identifier that can be used to access more information about the products UL certification. Utility Relay Company's official UL info can be found here: UL AC-PRO® Product Family
AC-PRO-II® UL Listings

| Manufacturer | Breaker Model | Breaker Rating |
| --- | --- | --- |
| Allis-Chalmers | LA-1600 | 1600A |
| General Electric | AKR-75 | 3200A |
| ITE | K-3000 | 3000A |
| ITE | K-600 | 600A |
| ITE | K-800 | 800A |
| Westinghouse | DS-206 | 800A |
| Westinghouse | DS-416 | 1600A |
| Westinghouse | DS-632 | 3200A |
| Westinghouse | DB-50 | 1600A |
| General Electric | Ak-2-50 | 1600A |
| General Electric | Ak-2-75 | 3000A |
| ITE | K-1600 | 1600A |
| ITE | KB Steel Back | 600A |
| Schneider Electric | Series H-3 | 800-4000A |
The AC-PRO-II® was tested & is certified to withstand radio frequency interference per the ANSI C37.90.2 Standard
Backwards Compatibility
The CTs, Actuators and wiring harness from the original AC-PRO® can be used with the AC-PRO-II®. This makes upgrading the trip unit very simple and fast.
Communications
RS485 Modbus RTU communications is standard on every AC-PRO-II®. The AC-PRO-II® can be integrated into various industry standard HMI systems that have a Modbus RTU driver. A few examples are:
Inductive Automation's Ignition
Siemens WinPM;
Wonderware' s InTouchTM
IntellutionTM
Schneider PowerLogic SMS-3000TM
ION EnterpriseTM
PME(Power Monitor Expert)
Eaton Power Xpert
GE EnerVista
Power Measurements PEGASYSTM
USB Port
The front mounted and electrically isolated USB port allows for easy downloading of trip data and protection settings using InfoPro-AC software. It can also be used to upload the trip unit settings, making commissioning the trip unit much faster.
USB Port is also intended for use with the SAFE-T-TRIP handheld trip device.
NOTE: If the AC-PRO-II® is located behind a cubicle door, a USB panel mount extension will be provided with the retrofit kit. Click here to see details on the USB panel mount extension.
A step-by-step installtion video of the USB mount extension can be found here.
Programming
Settings are programmed using the OLED multi-line display and smart buttons that change their function according to the information displayed. All of the settings are entered using simple parameters. No percentages or multipliers are required.
OLED Multi Line Display Unit
The easy to read multi-line display provides real time monitoring of 3-phase, neutral and ground fault currents. The display unit can be rotated to allow the trip unit to fit in a variety of different breaker configurations.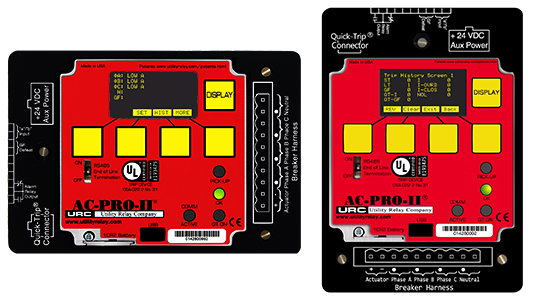 Last Trip Data
The trip units retains all of the trip data for that last 8 trip events. This data includes a date and time stamp of each event from the integrated real time clock. The waveforms are also captured for each of the 8 trip events.
QUICK-TRIP®
The AC-PRO-II® is compatible with the QUICK-TRIP® Arc Flash Reduction system. The QUICK-TRIP® system is a manually controlled arc flash hazard reduction system. It can reduce trip times when turned on and allows selective coordination between circuit breakers when turned off.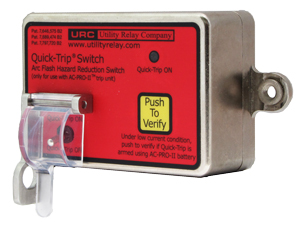 If maintenance personnel must work on energized equipment, they will first turn the QUICK-TRIP® system on at the upstream breaker feeding the equipment or breaker. If a fault now occurs, the upstream breaker will trip quickly based on the QUICK-TRIP® settings reducing the Arc Flash Hazard to personnel. When the maintenance work is finished, the QUICK-TRIP® system is turned off and the original selective coordination is back in effect.
50Hz or 60Hz Operation
The AC-PRO-II® is user configurable for 50Hz or 60Hz applications.
"Self-Test OK" Feature
The green LED indicates that the trip unit is operating properly. The "Self-Test OK" feature performs the following:
Continuously monitors the trip unit
Verifies that the actuator is connected
Monitors the software routines
Monitors the micro-controller
Construction
Conformal coated circuit boards
Contamination resistant membrane
All metal nickel plated enclosure
Warranty
All AC-PRO-II®'s come with a 2-year limited warranty.
Power Calculations
Whenever voltage and power data is necessary, a VDM (Voltage Divider Module) can be attached to the back of the AC-PRO-II® trip unit. With the VDM the following data is available on the display and through RS485 Modbus RTU communications.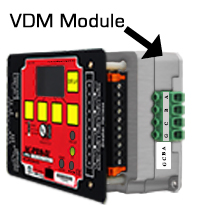 Line-Line Voltages
KW
KVA
Power Factor
KWHr
KVAHr
Frequency
Graphical User Interface (InfoPro-AC)
A graphical User Interface application called the InfoPro-AC® is available for easy interface between a laptop computer and the USB port on the AC-PRO-II®. The InfoPro-AC® will provide access to the following items:
Trip unit settings
Current, Voltage & Power readings on demand
Waveforms on demand
Data on the last 8 trips including the waveforms.
AC-PRO-II® settings
Trip Data and protection parameters can be saved for later use
The protection parameters can also be uploaded using the InfoPro-AC

Sluggish Breaker® Detection
The patented Sluggish Breaker® operation detection captures the interruption time for a first trip. Later operations are faster because the breaker mechanism was exercised. If the mechanism operating time is excessive, the AC-PRO-II® will alarm that breaker maintenance is required.
SAFE-T-TRIP®
The AC-PRO-II® is also compatible with Utility Relay Company's SAFE-T-TRIP&reg which provides a means for an operator to safely trip a breaker without having to stand directly in front of the switchgear.






Product Information
Product Fliers
AC-PRO® & AC-PRO-II® Test Set Product Flier
QUICK-TRIP®For AC-PRO-II® Product Flier
Instruction Manuals
AC-PRO® & AC-PRO-II® B-292 Test Set Manual
AC-PRO & AC-PRO-II® LT Trip Times
MODBUS Communications
AC-PRO-II® Modbus Communications Register Map
Downloads
InfoPro-AC®, AC-PRO-II® Software Application
Firmware Information
Firmware Release v4.0 Notes and FAQ
Videos
Rotating the Display on the AC-PRO-II®
Clearing Trip History on the AC-PRO-II®
Changing the Battery on the AC-PRO-II®
Reviewing Trip Data on the AC-PRO-II®
Installing the Quick Trip System
Installing the USB Extension Port